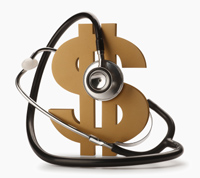 The Case for Designing the Built Environment using CuSalus
Evidence-based design is the process of basing decisions about the built environment on credible research to achieve the best possible outcomes – The Center for Health Design
Hospital Acquired Infections (HAI's) affect two million people every year, resulting in 100,000 deaths in the United States alone. 
HAI's are the FOURTH LEADING CAUSE of death in the United States, after cancer, heart attacks and strokes, and the CDC estimates that the cost of these infections is between $35-45 billion per year.
Antimicrobial Copper is superior to alternative touch surface materials on all fronts 
Proven efficacy as an antimicrobial – far more effective than stainless steel or silver-containing coatings

Proven to continuously kill the bacteria that cause infections

The only class of solid antimicrobial touch surface approved by EPA to make public health claims

Continuous and ongoing antibacterial action

Remains effective even after repeated wet & dry abrasion and re-contamination

Natural tarnishing does not impair efficacy

Not harmful to people or the environment

Inherently antimicrobial, no chemicals added

Completely recyclable

Antimicrobial efficacy will NEVER wear away
Given that the transmission of healthcare acquired pathogens is related to the contamination of surfaces and equipment near the patient, the use of antimicrobial copper hardware for every item meant to be touched makes common sense – research shows that 80% of all infectious diseases are transmitted by touch.