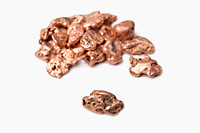 Antimicrobial Copper is the only solid surface material registered by the U.S. EPA to continuously kill bacteria that pose a threat to human health. No other solid touch surface has this kind of registration.
In order to receive this registration, the three approved Good Laboratory Practice (GLP) test protocols the EPA used to register Antimicrobial Copper with public health claims are:
Efficacy as a sanitizer – which measures viable bacterial count after two hours.

Residual self-sanitizing activity – which measures antimicrobial efficacy before and after 6 wet and dry wear cycles in a standard wear apparatus which mimics cleaning.  

Continuous reduction of bacterial contaminants – which measures bacteria after inoculating an alloy surface eight times in a 24-hour period without intermediate cleaning or wiping.
Laboratory testing has shown that when cleaned regularly copper alloys continuously reduce bacterial contamination, achieving 99.9% reduction within two hours of exposure.